Trapped in love's cage, andyou were, my one, and ONLY companion, so yeah, I'd, attached!  Trapped in love's cage, it shouldn't have,happened like this, I was, NEVER the one, who was, willing, to give UP myfreedom, for something, something as, USELESS as L-O-V-E (and, you DO realize,how before you CAN afford love, you need to have your food, drink, and SHELTERneeds, fulfilled, right???)…
like this???  Photo from online…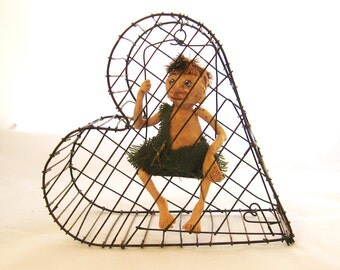 Trapped in love's cage, I wascaught, a long, long, long time ago by love, it'd, kept me well, sure, but,freedom called my name, every second of every day, and, I'd, longed, to breakfree!  Trapped in love's cage, there's,NO way out for me now, it got me, hooked on it, I'd, longed, for its undividedattention, every single minute of every single day…
what that'd, looked like, image found online…
Trapped, in love's cage, I don't want to be, NOT anymore, so, I'd, come up with this, escape plan, it's, elaborate, and next to impossible, but I know, I can, somehow, break free!
So the day came, that love left me alone, in its cage, and, for some unknown reasons, it'd, left the keys, and so, I'd, grabbed them, and, unlocked the gates, and, escaped, and, I ran, fast as I could, to get away, from all of those bad memories of love's, impositions on me.
But, even though, I'd, broken free, out of love's cage, physically, I'm still, a prisoner, to its, devices, psychologically, because, I'd grown, psychologically, dependent, on love, and, there's, just no way out of this, not for me!!!