How this woman's beliefs about receiving flowers changed as she got older, a sign of her becoming more and more mature with the coming of the days, translated…
The roses from her husband had, just about all, withered out, on her way to take her children to school, she dressed in her favorite clothes—a loosely fitted pair of pants, a white shorter sleeve top, with a floral silky scarf, and, she'd thought that after she'd said goodbye to her young, she was headed over to the florist, to get that bundle of ginger lily she'd ordered home, then, walking home with the flowers in her arms.
It was their ninth anniversary a week ago, the day passed as usual, after she saw her kids off to school, she and her husband went on a breakfast date, after the breakfast, she'd gone shopping for groceries, and her husband headed off to work. After they'd parted, she'd LINED her husband, "There's NO need to celebrate the occasion further for today, just buy me a bouquet of flower after work!", a short while after she'd returned home from her grocery trip, she saw a bouquet of roses on the breakfast table, the light fixed onto the petals, there was a card attached. It'd reminded her of the day he proposed, he was covered in sweats as he came to pick her up. That day, as she sat behind him on the motorcycle, she'd felt that he was, a bit, mysterious for some unknown reasons, and, as they'd arrived at the place where he was about to propose, that, was when she'd finally learned, of WHY he was so nervous.
not my photo…
"After I saw your message on LINE, I'd immediately rushed to the florists', I'd originally wanted to pick up the ginger lilies, but the shop owner told me that the ginger lilies have a short bloom, and I'd needed to make a special order." On that very night, she lay in bed with her husband, and, took in his thoughtfulness. It didn't matter, she'd already, received more than she'd ever expected, the ginger lilies, she can buy herself.
The very first bouquet she'd ever received as back in high school, on her birthday, as the bell rang, the boy called out all the guys in his class, and, they'd, gathered in front of her classroom outside, and started singing, then, he'd handed her ninety-nine roses. During that year, the fake flowers made with the foams were in, and, that high-end bouquet of roses was made in such way, without the scents. But, that'd declared the guy's love toward her. He'd hoped that their love would be like that bouquet, because the flowers will never wither away, that it would never need to get thrown away, and she'd still kept all those fake roses, on the bookshelf of her mother's house in her bedroom.  Every time she saw it, she'd recalled her youth, that sense of not needing the flowers to be real, but with the ever-lasting bloom of the flowers.
After she'd received enough of the bouquets, she'd finally gotten caught up on her experiences in love. On her wedding day, the aisle of the church she married, was decorated with the wild ginger lilies, and, don't know why, she'd started loving how these wild flowers would grow by the waters, very comfortable, and just, bloomed on, even with nobody there to notice it. She'd started understanding, that it's most important, what the girl knew which sort of flowers she'd wanted, the flowers are a representation of her self.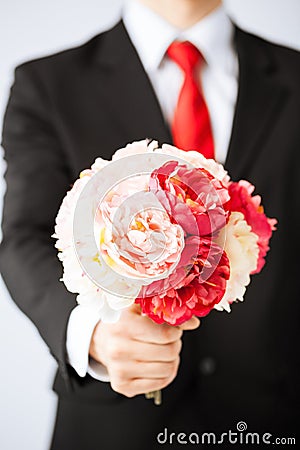 not my photo…
After they married, her children would run toward her, with the rosy red cheeks, an, blinked those pair of bright eyes, said, "Mom, for you". They would run on, but, as they saw wildflowers, they'd stopped, plucked them down, and, turned around, gave it to her, and, sometimes, the kids had, insisted on pinning the flower behind her ears. After she'd accepted their gifts, her thoughts drifted back to the present, looking at their smiling faces filled with love, they'd treated this bundle of wildflowers as the most precious, and, treated their mother before them as the most noble queen, she'd felt, that she was, glowing, shining, like a bright star.
As she'd carried the bundle of ginger lilies home, she'd placed them inside the vase, and, the house was, all of a sudden, filled up with the smells of the wild hills. As her kids returned home, they'd complimented, "So aromatic", and when her husband came home, he'd told her, "Very pretty!", she'd thought, it's great, arriving at the age, when I knew, to buy myself some flowers.
So, this, is the growth of a woman, she'd gone from needing her suitors to bring her the flowers, to feel that she was loved, to becoming a wife, feeling excited from the flowers her husband brought home to her, to being a mother, feeling glad, when her kids picked those wildflowers and pinned them behind her ears, to now, buying the flowers for herself, she'd grown from a girl in love, to a mature woman…