These are, the remaining bits and pieces, of a once-fully-developed dream, and now, it'd become, fragmented, incomplete…
Residual dreams, they're the ones, you still have, but had, casted away, to the back of your mind (like say, your SUB or UNCONSCIOUS, like those suppressed memories???), and never think of again.
Residual dreams, they will, always, lurk behind you, haunt you, and, their "invisible presences" will, be that annoying reminder, of how you used to have a fighting chance, to be better (than you are now???), how you could've, changed your own lifepath (rather than, just settling in, into that mediocre life of yours???)…
fragmented, incomplete, and broken!  Not my picture…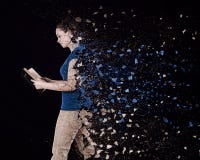 Residual dreams, they'd become, haunting to you through the years, and one day, you will, feel, that lost love, from your younger years, come on so very strong, that you can't, exorcise it from your mind, NO matter how hard you'd, tried to cast it all away!
Residual dreams, they served, NO purpose, they're, your regrets of what-might-have-beens, had-I-only's, and, you'd, gotten, too caught up in every single one of your own, residual dreams, you'd ended up, losing MORE time in your already cut-short lives, and, there's, NO way out for you………
not my artwork…
Residual dreams, stop them, by not ruminating on things that are already, gone, that you can't, get back again, but you can't, because, the past, is what you'd, lived off of, and now, it'd begun, to SUCK you dry, a little, each, and every day…