Scared of forgetting things, could it be, an early sign of dementia?  Or, could it be, that there's, just too many things we're, keeping in mind, that one or two had, "slipped"???  Translated…
"Honey, looks like I'm going to have to post something on your back as a reminder today."  As I woke up in the morn, my wife hollered out at me.  I'd asked her what's up, she'd smiled and told me, "While I was making breakfast, I'd suddenly, forgotten what I was about to do next, and no matter how hard I'd tried, I can't remember it, could it be, that I'm already, demented?"
"Dementia?  Don't exaggerate."  I'd laughed, "Last night you were just telling me, that there's a CD due today, that you're going to, withdraw it from the banks………", after she'd heard, she'd realized, that she'd told me this, and tapped her head with her fingers, "Yes, yes, that's it!  Oh, I'd still needed to………", she looked troubled in thought, like she can't remember something else.
okay, mayne NOT that overboard!!!  Photo from online…
"Let's do it this way," I'd recommended to her, "Why don't you do like I do, have a notebook handy, and write everything you need to do down, or, just use the Post-It notes and stick it on the fridge, that way, you will NEVER need to worry about forgetting anything!"
"We're together every single day, or, I should, post that stick-it note on your back, like those cue boards for the actors and actresses, that way, I'd known what I'm going to do."  My wife still wanted me to do as she said, posting the notes on my back, she'd' continued, "You know what, there was a famous media personnel after her mother was diagnosed with dementia, she'd stated, 'what made me the saddest was how my mother forgot our shared memories, it's, the worst kind of punishment.'"
The worst kind of punishment?  This was, shocking to me, and I'd recalled my eldest cousin who'd worked as a school teacher for thirty-nine years.  Only a few short years after his retirement, one morning, after he walked out of the house, and in a few short steps, had forgotten how to get back home, clearly, that, was the signs of Alzheimer's; not long thereafter, his condition worsened, it's small matter that he'd forgotten things, what's worse was he'd wanted to ram out of the house, rushed to school.  Although the families tried stopping him, he'd still found his way, to "sneak" out.  And yet, after he got out, he'd become, disoriented, the family worried he might be in an accident, and started the cycles of "finding the lost" daily.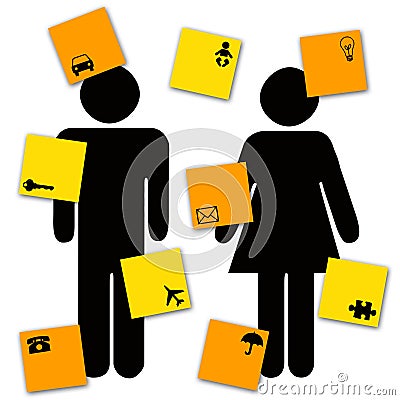 like this???  Not my picture…
"Posting a note on my back is only temporary," I'd smiled and told my wife, "Why don't you give your brain exercises, like through reading, practicing calligraphy, or, get involved with line dancing, that, would be the best way to prevent yourself from forgetting!"
She'd nodded, and told me that she will, otherwise, it would be, regrettable for her in the future, if she'd, forgotten, this past we'd, once shared.
So, it is, normal that we start to forget things as we get older, and, because dementia IS the common cold of old age, everybody is scared, and, there's no need to feel alarmed if you can't remember things, after all, we're still, processing a TON of information from a day-to-day basis, and, not being able to recall the slightest details, is only normal, we're NOT computers or machines here!!!