It was, the very first photo he took of her, with her, in her mother's arms, fast asleep…
The first photo he took of her, it'd made him look back, to the day she'd shown him that sonogram.  He's going to be a father, he felt, a bit, surprised, then, overcome, by that strong sense of panic: I don't know how to be a daddy, I'm not ready for this shit yet!!!
from something like this…NOT my photo…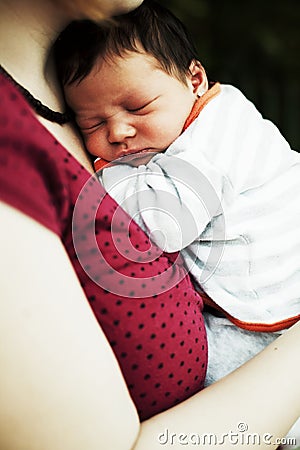 And, despite how he wasn't willing to cope with it, his daughter still came out of his wife!  As the doctors pulled her outside into the world, the nurses, they'd, cleaned her up (as we ALL know how messy births can be, right???), then, handed her, to him…
He'd, taken a photo, not with his camera, but with his mind, for the very first time in life.  He'd, held that infant in his arms, feeling so stressed out, like she was, his best piece of equipment, fearful, of dropping her.
to this…still NOT my photo…
As that little girl grows up, and starts walking, running, dancing, he'd, taken photographs of each and every single moment, documenting her coming-of-age.  And finally, his little girl was proposed by some ASS, and, to his surprise (actually, he should've seen THAT comin'!), she'd, said yes!
Then, he took the very first photograph, NOT as his own beautiful little girl, all grown up, into a woman, but as, someone ELSE's wife.  On her wedding day, he'd, hidden himself, behind his camera, and, click, click, click…then, the tears fell down from his eyes………
to finally, this…still NOT my photo…