Between a husband and a wife, translated…
During that period of time, someone always placed a small vase on my desk at office, with stems of roses.  And, although I didn't know who my secret admirer was, but, I'd felt warm and fuzzy on the inside, with the scent of the flowers.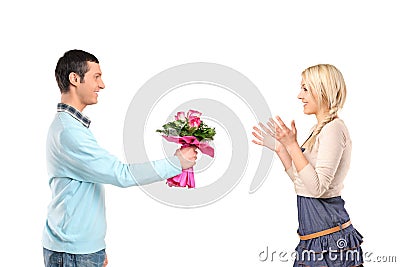 back when they were dating…not my photo…
After awhile, finally, the man came forth, he'd asked a child to deliver the flowers to my home.  Don't know if the child was playing a prank, or that the child was respectable toward the elders, he saw my father who was sitting in the living room, he'd thrown the flowers to my father.  And, I'm guessing, that my serious father must've felt so furious back then?  Which dumbass, DARED made a move on his baby girl?
Finally, I'd worn my wedding gown, and took the bouquet from his nervous hands, walked, hand-in-hand with him, into his house.
After we married, he'd often come home late from working overtime.  One night, he'd brought home a huge bouquet to give to me, I'd placed it onto the dinner table, enjoying the view, at which time, my mother-in-law commented on how the flowers were not wrapped up beautifully.  "It's pretty!", I was wondering.  But now, I'd understood, sons, don't bring your wives flowers in front of your mothers, or, give your mothers some flowers too, otherwise, the mothers' hearts made of glass would surely, shatter easily.
after they're married…not my photo still…
And after that, he'd become smarter.  One year on my birthday, he'd asked his younger sister-in-law to pick up a big cake, along with a bouquet of flowers, delivered it to my school, it'd made me so happy.  That bouquet of flowers had all of my coworkers feeling envious, a good friend of mine carried the flower, and took a picture, sent it to her husband, told him to learn from it.  And, I'd needed to, blame my husband for not being careful enough, don't know how hard the couple of days that followed, my younger brother-in-law would have to weather through because of this.
Many years of marriage, there's, still the habits of giving me the flowers.  Every Valentine's Day or special occasions, seeing how the younger coworkers were, receiving the flowers, it'd made me, feel awful.  The couple of us felt like abandoned ladies, we'd, made a pact, to give one another flowers on the holidays or on our birthdays, with the card that says, "from a secret admirer", so we can, boast ourselves a bit, and, take the bouquets home, and make our husbands nervous a bit.
and now…
flowers for herself, not my photograph still…
Sometimes, when I'd complained to my husband how I'd not received any flowers from him for so long, he'd stated, "Did I not plant a garden full of flowers for you that bloomed throughout the seasons, cherry blossoms, orchids, camellias, roses, jasmines, lilies…all you can wish for, isn't it enough?", surely, the flowers had, bloomed for me, their aromas, for me to whiff too, but, I just, want an unexpected surprise!
That day, he'd plucked some magnolias with the leaves attached, placed them on top of a water-filled bowl, handed them to me, it was, lightly scented, full of zen, I'd carried the bowl and sniffed them again, and again, I'd loved it, but, he'd blurted out, "The magnolias are in full bloom, you're not doing anything, why don't you pluck them down, and sell them in the streets?"
I'd given him the eye roll, to remind him, that his wife, is a rose, with the thorns.
So, this, is the fun way they'd, interacted with each other, the husband's gestures from before, buying the flowers, during their courtship, but as they got married, he'd lost his sense of romance, and the wife wanted him to continue to surprise her, but that, is not how men worked, and so, she and her coworkers started sending flowers to each other on the special occasions, and, this showed, how much men changes, from before to after they married.