The companionship of a made-up dog that she'd seen in an act, that's, stayed with her throughout her childhood years, translated…
These years, I'd been putting on the performances for children in the distant regions, and, seeing these shows, I would imagine, made them happy, especially with the scripts written, especially for children, but there would still be some children who'd cried as they watched us perform.  The very first show of my daughter's life, she'd, cried in it.
In 2002, the If Children's Performing Troupe put out a children's musical, "The Songs of Strayed Dogs" my daughter was only a little older than two years, just about to begin in preschool, because of my good friend invited me, I'd, especially gone from Hualien to Taipei to watch this performance.
The stray dogs in the performances had their separate stories, and there were two separate attitudes toward humans, one, wanted to return back to their owners, the other lacked faith in humans.  Later, the two sides had an altercation and started in a brawl, and that was when my daughter began crying.  She'd asked me sorrowfully, why are they fighting?  She'd cried and told them, "Don't fight anymore."  In the end, the dogs decided to return back to their separate owners, only the strongest, and most stubborn one called "Luke" (portrayed by Jack Na), who'd, refused to go with everybody else, continued on his journey, straying.  As we got to here, my daughter wailed very loudly, made a huge scene, and no matter what we did, we couldn't, calm her down, and, the echoes of a two-year-old crying aloud, resonated through the National Performance Halls (thankfully, we were, way in the back).  "Why didn't it go home?" my daughter couldn't understand it, why did Luke choose to stray on alone, on his own?
After the show was over, the story still, continued.
As we returned to Hualien, one day at supper, my daughter said, Luke is having supper.  We took it as child's talk, thought that she believed that Luke was, eating, but she'd, continued, to tell us the goings on in Luke's life, and we can hear it, that Luke didn't just, exist in her imaginations, he was, in our home, right by her side.  She'd told us, she took Luke home, kept him as a pet.  A Luke, that none of us could see.
Her Luke didn't go to the bathrooms, it wasn't on her because the dogs in the performances never went to the bathrooms either.  But, as she got into the car, Luke would be, riding there by her side, she'd told us what Luke saw outside the windows, as we ate, Luke would, sit beside her, and we'd known about what Luke was, having for his meals; at a certain quiet moment, my daughter would chime to us on what Luke was, playing with; even as she got up in the morn, brushed her teeth, gone to the bathrooms, Luke was, right there beside her.
And so, Luke stayed with our family, and we also, got used to him there.  We'd started inquiring, how is Luke now?  What's he doing?  And, we'd, started, owning Luke with our young daughter.
children watching a performace on stage, photo from online…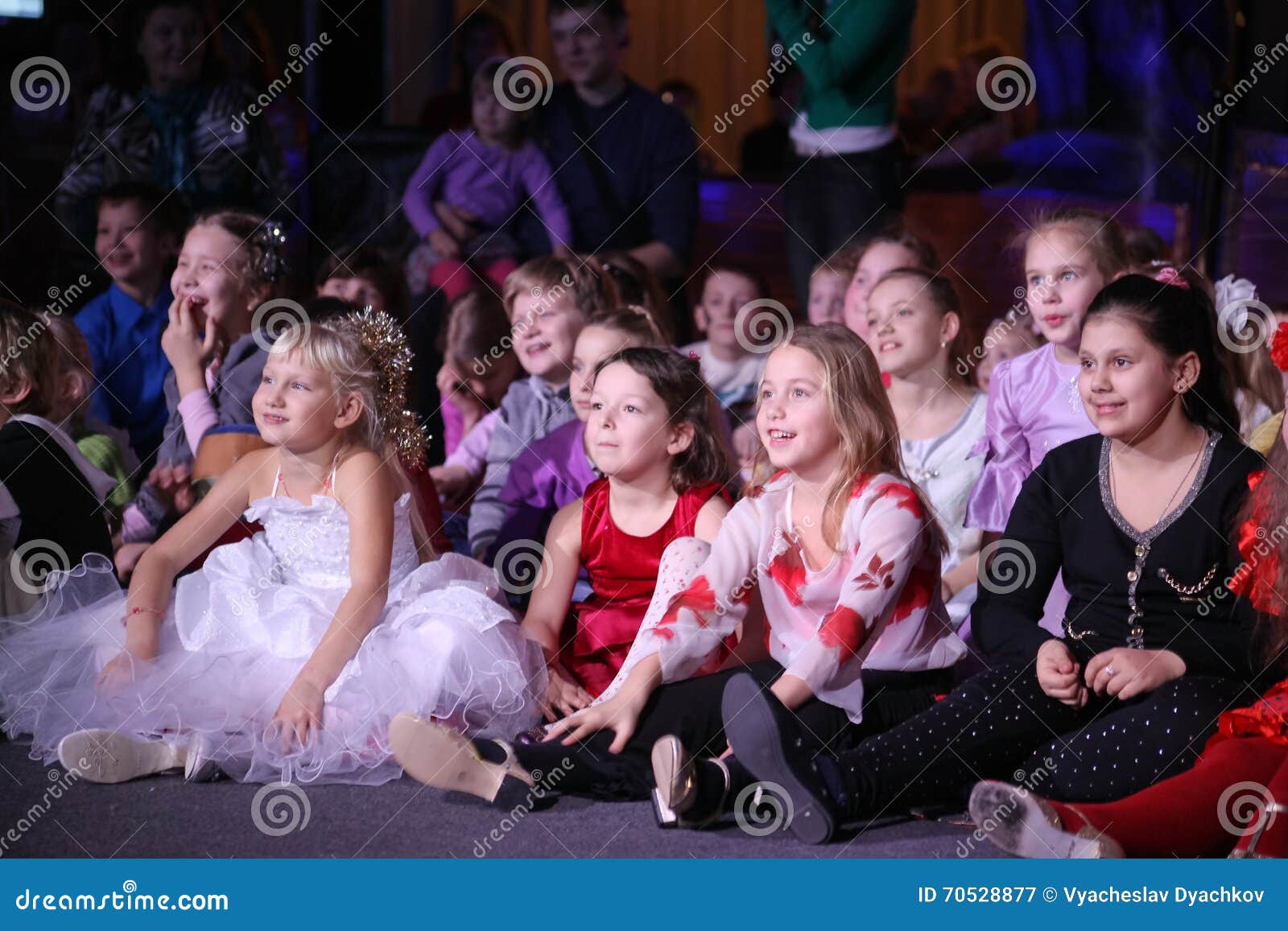 Several years later, as my daughter graduated from kindergarten, she's into elementary school and stopped mentioning Luke as much, but, every time we were, about to forget him, she'd, mentioned him again, without a warning.  And that was when we knew, that Luke was, still with us.
Until she was entered into middle school, and for a very long time, she'd, not mentioned Luke again, I'd not inquired her about it, if Luke was, still with us?  These past decades, was she, taking care of Luke, or was Luke, taking care of her, I really, can't tell.
In October of 2015, there came the sequel of "The Song for Strays".  It was the year my daughter entered into high school, she'd become, busier and busier, stopped being interested in the children's program anymore, I'm thinking, that the large breed, Luke had left, or maybe already, died of old age.  Although, I'm, quite unsure, when he had, gone away.
My friends in the troupe saved two seats for me, and I'd, gone up north alone, not for the sake of the shows, but for that young girl of a little over two, she sat there, right next to me, in that empty seat.  I know, that this time, the young child is, no longer crying, because she already, found herself, a large dog to keep on her own.  After the show was over, I'd, carried that mixture of emotions, cherished the mixture of feelings I had, walked away, quickly, in the rain, left that noisy theatre speedily.
In 2015, that was the year I'd made promised, to perform for the children in the distant regions.  Several years had come and gone, I'd visited over a hundred elementary schools, performed for over thousands of children.  Every time there was a kid that cried as s/he watched the performances, I'm not at all, worried, because there was, always that little girl who was crying, when she watched the shows inside of my heart.
look at how engaged they all are???  Photo from online…
And so, the stray dog from the story followed this man's daughter all the way, into her teenage years, and, the experience of watching his own young daughter being impacted by the life of a make-believe stray dog had, touched this man's life, and that, was what made him into a stage actor, who'd, performed the stories, hoping, to touch the lives, of more young children like how his own daughter's life was touched by the play when she was a very young child.