Finding something that we can do together, not imposing the hobbies on one another here, translated…
Tai-Chi is a slow sort of exercise, but ballroom dancing, in more fast paced; these two workouts of different natures, I personally preferred the ballroom dancing, perhaps, it's, my outgoing personality!
A couple of years ago, I'd received a flyer of courses at the community college, there was a class on ballroom dancing, I felt moved.  The dance studio is at a close by community center, I'd told my husband, "I want to learn ballroom dancing, will you be my partner?", he'd immediately replied, "No problem!  I'm more than honored, to be your dance partner."
going from this…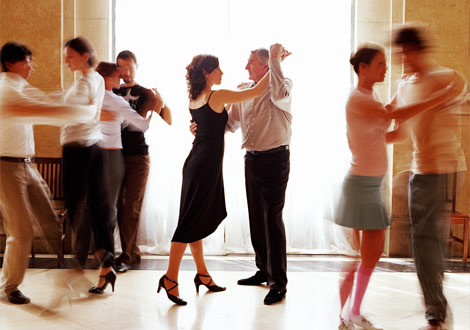 photo from online
On the first day of class, we saw the instructor came into class, smiling on her face, looked very glowing, so, this is how you'll look after you'd start ballroom dancing!  The instructor told the class, "before you all learn to dance, you must learn to hold yourselves with good postures.  First, always keep a smile on your face; second, suck in your tummies, and, push out your bosoms, straighten up those backs."", I'd, hoped that taking the dance classes can help change my lazy nature, and, I'd started, smiling more, in this joyous learning atmosphere; I'd hoped, that my husband, who'd become, a bit on the heavier side could, get a bit toned, with the varied dance moves.  The teacher told us to practice the moves she'd taught to us in class at home, but every evening as I'd called out to my husband to practice dancing with me, he'd always replied, "I'm tired today, I'll practice with you tomorrow!", and, tomorrow came, and it was, just like today, and, the time to meet in the class came again, and so, I can only tell the teacher, "I'm sorry, I just, can't quite remember all the dance moves, can you please, teach us again………"
Actually, the dance instructor knew well too, that teaching this group of middle aged men and women to dance, is NO easy thing.  Cha-cha, tango, although we didn't catch up to the tempos of the music, but slowly, we'd, caught up to the moves.  When we danced the waltz, my husband put his arm around my waist, and twirled me all around the studio, and I'd, felt happy; when we do the jig, the teacher said this was the dance that will help us burn off the most calories, and so, my husband and I started, kicking our legs up, raising our arms higher, and that evening, I'd, worked out too hard, and couldn't sleep at all, and, the following day, the both of us, fought hard with the dream masters a long time, and we'd, finally, gotten up out of bed, I'd told him, that after this first few months of hardships, things will get better.
After a few more months, I was surprised to find, that my husband's beer belly became, somewhat of a six-pack, and I got really into ballroom dancing by the second semester, but as I rushed out, he wasn't found anywhere, and I'd had to, get back into the house and hollered out at him, "hey are you ready yet!", and, my husband came up with a million of excuses of how he needed to go to the bathrooms, there were, an assortment of reasons he'd told me, he'd usually stalled, for a long time, until he absolutely had to come to class with me.  At the end of the second semester, he'd finally come clean to me, "working out is so your brain can relax, there are, too many thing I needed to remember in ballroom dancing, I can't learn it, please, just let me off the hook!"
to this…
a compromise, on the wife's part, but hey, they found something that connected them better, and he lost weight…photo from online
Later on, my husband started doing the tai-chi, he'd, tried convincing me of the benefits of it, and I'd, adjusted my own mind, and saw practicing tai-chi like dancing ballroom, and, it'd been over a year since we began.  And, it didn't matter if it was tai-chi or ballroom dancing, if a couple can have a common interest, then, they will get along better and better, and now, whenever the two of us found the time, we'd, practiced tai-chi together.
And so, this woman caved in the end, because her husband has absolutely NO interest in ballroom dancing, and she'd wanted to help him exercise, to find something they can do together, so, she'd, switched to what her husband did, tai-chi, and, together, they became, healthier, and more connected as a couple.