Bearing witness to the affections shared by a grandfather and a young granddaughter, translated…
"Ready or not?", came that youthful voice, like how that nightingale sang her sweet song in the noisiness of the city, it'd, attracted me who was strolling by the riverside. I'd turned around to look, to find where that voice came from, and I'd heard another, "I'm ready", the voice was low, and thick, and, sounded like the man was, grinning ear to ear.
I'd followed the voice, and saw an elderly who looked gentle and kind, stood behind a big tree in the park, leaned out from behind; and, a few steps away from the tree, was the origin of that very first voice I'd heard: a young girl of about two, a bit small, but she looked focused, trying to figure out where her grandpa's voice was coming from.
illustration from the papers…
The child wasn't even in preschool, perhaps, she'd not known how to express the love verbally, but, she'd already, showed that affection, that attachment at the beginning of life. As the two played on, the grandpa's company, playing together, the adventures they shared, the expressions of love, the fulfillment, the simplicities, there's, NO need for the extra verbal expressions. In the memories of the child, it'd, left this, deep imprint, and I'm sure, that this will be an asset to this young girl's future as she comes across the hardships in her life.
I'd stared at the two playing that game of hide-and-go-seek, the waves of memories, took me back in time.
When I was a young child, wasn't I just like this pair of grandfather and granddaughter? Kept clinging on to grandma to get her to play the games with me. And, don't think that because my grandmother was illiterate and uneducated, she's, a winner on the chess boards. Only, that she could, never defeat her granddaughter's "Cry-baby" and "tag-along", although she kept hollering, "Enough, that's enough, I won't play with you anymore!", but whenever I'd urged, "Please, just one more game!", she'd played game after game, after game with me, until I was, completely, satisfied. That year, because of how I'd longed to play with grandma, I'd insisted on learning to take the greyhound southbound home to find her. Although, I'd still not learned her tricks, but, learning with my grandmother, outside of the classroom setting surely was fun, plus, her never ending love and care for me, her tolerance, became a part of my need to try, to never allow any limits to place on me, these values had, helped me as I grew up in life.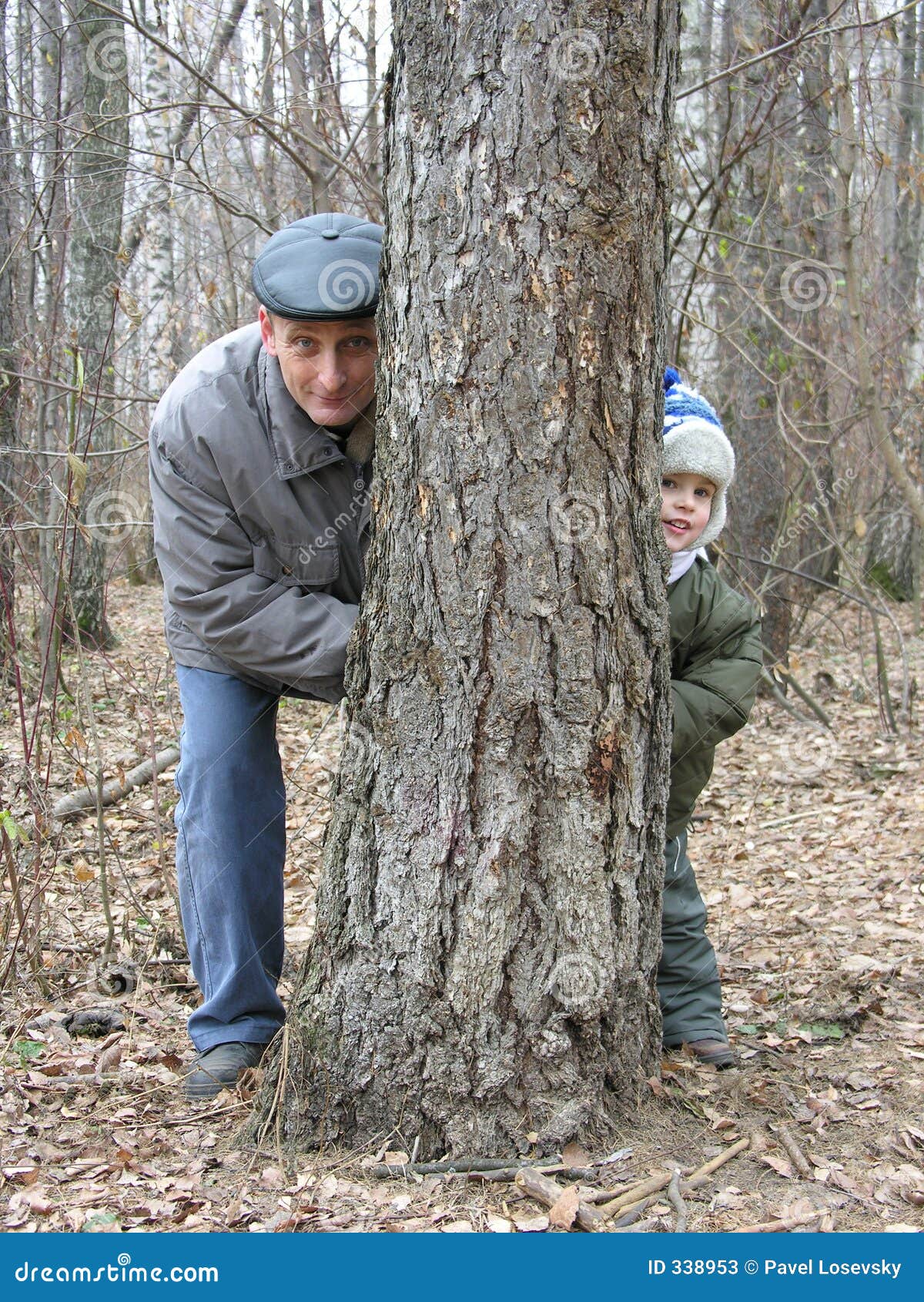 lke this???  Photo from online…
"Where are you?", the young girl asked, with uncertainty, and, led me to the park by the river. "Here you are!", the grandfather tried moving without being noticed, and just as he'd, concealed himself, the little girl had already, found him. The grandfather complained blissfully, "You'd found me every time. Your turn to hide now." Seeing how this pair played their games, I'd, taken the love they'd shared that I'd, accidentally found, continued, on my spring afternoon stroll.
And so, seeing this grandfather and grandchild interact, it'd, brought you back to your own childhood years, and, you'd recalled how wonderful your grandmother loved you, how she'd, cherished you, and how she'd, helped shaped your personality too.